Built in 2015, The Beach House is located right next to The Chain O' Lakes Bar & Grill in King WI.
With seating for 70 people and standing room for 100+ people, the space offers a private setting for your party, reunion, shower, rehearsal dinner, corporate meeting, etc.
Open May 1st through October 31st (Weather Permitting). The Beach House includes private bathrooms, a private bar, use of 3 Volleyball courts, 1 large screen TV and sound system, or feel free to bring your own entertainment!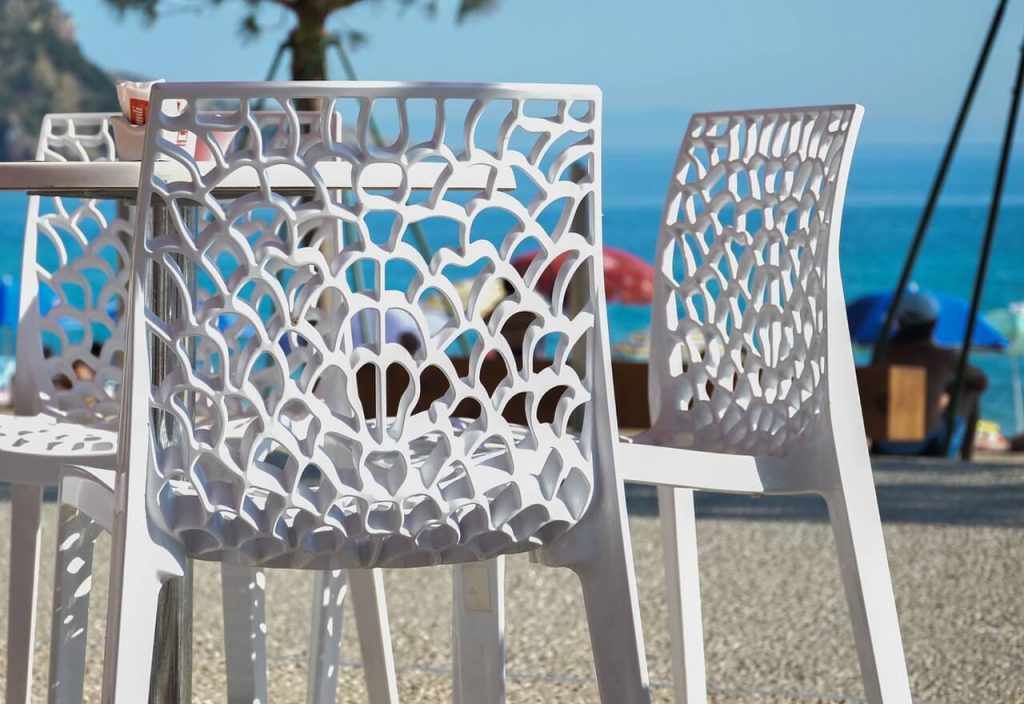 Peak: Friday, Saturdays & Sundays Memorial Day thru Labor Day $500 for first 3 hours, Additional $50 per hour thereafter.
Non Peak: After Labor Day until one day before Memorial Day and Monday-Thursdays Memorial Day thru Labor Day.
$350 for first 3 hours, Additional $25 per hour thereafter.
In an attempt to accommodate the Summer Volleyball League, parties booked on Mondays and Wednesday during peak season must conclude before 4:30 pm.
*Beach House will be available 1/2hour before and 1/2 after scheduled event time for set-up and clean-up.
A $100.00 deposit is required to secure your booking. Your deposit will be subtracted from the final bill at the conclusion of your event.
Bills must be paid in full within 24 hours of the conclusion of your event.
Bills will include 20% gratuity.
A $25.00 clean up fee may be added to your bill depending on the condition of the facility after your event.
The Chain O Lakes Pub & Grill offers a catering menu complete with bar options, or order off our full menu below.
Can't find what you are looking for on our catering menu? Just ask- we are happy to work with you to customize a menu that works for your event!
You are welcome to bring in your own desserts.
We don't allow any food ordered from other bars/restaurants to be carried in. We do not allow any alcohol to be carried in.
$300 minimum food and bar order is required.
Served Buffet or Family Style
Pizza Buffet: $12.00/person (20 person minimum)
Includes a variety of homemade, thin crust pizzas, garlicky breadsticks, and fresh garden salad with sampling of dressings.
Wrap Session: $10.00/wrap (10 wrap minimum)
Choose any combination of our delicious wraps cut in 1/3's for everyone to try!
The Chicken Bacon Ranch
Buffalo Chicken
Spinach & Chicken
Pesto Chicken
Veggie (veggies served warm)
Prime Rib
Mexican Buffet: $14.00/person
Seasoned beef, chicken, refried beans and Mexican rice served with hard and soft taco shells, fresh tortillas chips, salsa, cheese sauce, sour cream, lettuce, tomato, onions and black olives. Fried or grilled fish tacos available for an additional $2.50/person.
Ruebens & Rachels: $13.00/sandwich
Our house made corned beef or turkey on Texas Rye with baby Swiss cheese and creamy 1000 Island dressing, plus fresh kraut on the Ruben & creamy coleslaw on the Rachel! Cut in half or 1/4's for everyone to enjoy!
BBQ Feast!: $16.00/person
Pulled pork sandwiches, tangy BBQ pork ribs, buttery sweet corn, house baked beans, creamy coleslaw, corn bread, dill pickles & potato salad
Classic Supper: $16.00/person
Herb roasted chicken, beef tips, egg noodles, mashed potatoes & gravy, vegetable medley, dinner rolls and garden salad served with a variety of dressings.
Italian Buffet: $14.00/person
Spaghetti & penne noodles with marinara & alfredo sauces, meatballs, chicken, garlicky breadsticks and Caesar salad. Homemade 7-cheese sauce and elbow noodles available for an additional $2.00/person.
Deli Buffet: $10.00/person
Sliced ham, turkey & roast beef, Cheddar, Swiss & Pepperjack cheese and assorted breads served with fresh fruit, Hot Chips, Soup Du Jour and condiments.
Wisconsin Tailgater: $12.00/person
Includes your choice of Two; brats, burgers, grilled chicken sandwich or hot dogs with house baked beans, potato salad, potato chips and chocolate chip cookies.
Classic Luncheon: $9.00/person Choose from four classic options
The Chicken Bacon Ranch wrap with home made chips
Grilled Chicken Sandwich with potato salad
Chef Salad with French & Ranch dressing
1/3 Pound Angus Cheeseburger with Brew City Fries (choice of cheese!)
French
Ranch
Lite Ranch
Caesar
Bleu Cheese
Italian
Balsamic Vinaigrette
Honey Mustard
1000 Island
Parmesan Peppercorn
Blueberry
Pomegranate
Vinaigrette
Cobb: $60
Southwest: $60
Caesar: $40
Mediterranean: $60
Spinach: $45
Chef: $60
Garden: $40
Add grilled chicken for an additional $2.00/person, tofu for an additional $2.50/person, grilled shrimp for an additional $3.50/person, steak, tuna, or salmon for an additional $4.50/person.
Ketchup & mustard included, additional dipping sauces: $.25/each
Home made Soup: $4/cup or $7.00/bowl (10 person minimum)
Soup Du Jour
Cheesy broccoli
Cream of Mushroom
Home made Jambalaya: $4/cup or $7/bowl (10 person minimum)
Cheese curds (white or yellow cheddar): $16/pound (3 pound minimum)
Macaroni Bites: $0.80/piece (30 piece minimum)
Boneless wings; $12.00/dozen (4 dozen minimum)
Choose from; Buffalo, Chili Lime, Citrus Chipotle BBQ, Caribbean Jerk, BBQ, Teriyaki, Sweet Chili, Pineapple Curry, Oriental, Sriracha or Sriracha Honey
Traditional wings: $12.00/dozen (4 dozen minimum)
Choose from: Buffalo, Chili Lime, Citrus Chipotle BBQ, Caribbean Jerk, BBQ, Teriyaki, Sweet Chili, Pineapple Curry, Oriental, Sriracha or Sriracha Honey
Cheddar Breaded Cauliflower: $0.80/piece (40 piece minimum)
Jalapeno & Cream Cheese Poppers: $0.80/piece (25 piece minimum) includes salsa
Beer Cheese Spread: $30.00 (serves 10 people)
French Fries: $6/pound (5 pound minimum)
Hot Chips: $6/pound (5 pound minimum)
Waffle Fries: $6/pound (5 pound minimum)
Sweet Potato Fries: $6/pound (5 pound minimum)
Mini Tacos: $0.75/piece (30 piece minimum) includes salsa & sour cream
Mini Corn Dogs: $0.70/piece (30 piece minimum)
Mozzarella Sticks: $7.00/dozen (4 dozen minimum)
Bread Sticks: $12.00/dozen (4 dozen minimum)
Chocolate chip cookies: $1.50/cookie (25 cookie minimum) Carrot cake: $4.00/slice (12 slice minimum)
Assorted cheesecakes: $4.00/slice (12 slice minimum)
Carrot cake: $5.00/slice (12 slice minimum)
German chocolate cake: $5.00/slice (12 slice minimum)
*Kids 4 & under eat for free
Domestic 1/2 Barrel; $225.00
Premium 1/2 Barrel: $275.00
Domestic 1/4 Barrel; $150.00
Premium 1/4 Barrel: $200.00
Premium 1/6 Barrel: $175.00
Mimosa Bar: $5.00/drink (20 drink minimum)
Bloody Mary Bar: $5.00/drink (20 drink minimum) includes garnishes
Margarita on rox: $5.00/drink (20 drink minimum)
House wine: $3.50/glass or $14.00/bottle
Premium & select wines available upon request
Handcrafted cocktail menus/selections available:
Mojitos, Old Fashions, Martinis, Daiquiris & Coladas, Moscow Mules, etc…
Soda: $2.00/can or fountain
Coffee, tea & milk: $1.50/ drink
Fruit juice: $2.50/ drink
Complimentary water station